Recently, the increase in interest rates has sent off alarms in the Silicon Valley real estate selling and buying community.  You will see graphs showing the current rates being relatively reasonable based on 50+ years of history and encouraging buyers to keep shopping.  We may see a small bump up in the number of homes for sale over the summer as sellers try to grab the coattails of the longest-running annual double-digit appreciation run in U.S. real estate history. The Silicon Valley real estate market will be confused for a bit as we all digest the multiple layers of influencers on the housing market.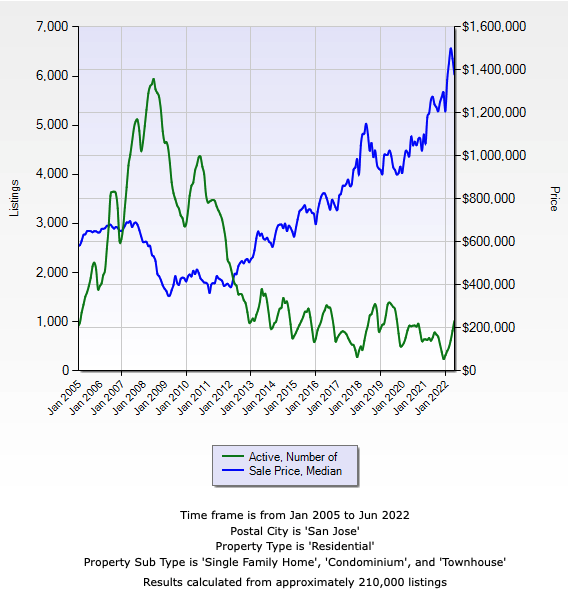 Most importantly, there is no one blanket response to how the real estate market is doing as it is very dependent on the area, the zip code, the home, and the other global contributors. This is not a country-wide fire sale.  This will be an adjusting market and the buyers will have a bigger say in what value really means to them.  Also, we normally are not able to pick our ideal move date so remember, the market is the market, now let's see how we can meet your goals.
Since late 2008, the Silicon Valley Real Estate market has been appreciating at an amazing rate. This can be attributed to extremely low-interest rates, technology wealth, our amazing weather, and simply, we have not built enough homes to meet the demand.  According to a recent article in the Silicon Valley Business Journal, over the last 10 years, only one home has been built for every 6 jobs created. And that pretty much sums up our challenge.
The next 5 years in Silicon Valley real estate
We will see if the number of homes for sale increases significantly in the next 5 years. Many are talking about a "crash" and how everyone should "just wait" for more supply and better pricing.  In May of 2007, in the middle of the crash, we had nearly 4500 homes for sale in San Jose.  As of June 2022; we have less than 1000 homes for sale.
The median price went from a high in June of 2005 of $650,000 to a low of $375,000, 4 years later.  So even in the "crash", the depreciation was an average of 8% per year.
From Jan 2005 when the inventory was 907 to March 2009 when inventory was 4,500 the total price decline for San Jose from the top of the market to the bottom was about 30%.
According to the Mercury News in Feb 2022, we are experiencing one of the richest equity markets in history " As of the last quarter of 2021, 42% of residential properties with an underlying mortgage were considered equity rich, according to a report from Attom, a real estate data company. That was up from 30% in the fourth quarter of 2020." The article also states, "Only 3% of all loans were seriously underwater, a situation in which the homeowner owed at least 25% more on their loans than the home is worth"
In the meantime, interest rate increases will impact buying power.  Looking at a $1 million dollar home price, buying power decreases by about 2.5% for each ¼ % rate increase.  For example; on a $1M purchase price buying power would be reduced to $975,000 with a ¼% hike in rates.
Here's the bottom line
Every market has its challenges and waiting for the perfect market will be futile.  But if you are ready to move, then let's find the best way to help you with the minimum amount of stress necessary.   There are so many options, the only way you will know if it's the right time for you to make the next move is to sit down with professionals to help you evaluate the whole idea.
For me, I love a challenge and it is one of the reasons I enjoy working with clients on their real estate moves.  It is not always a slam dunk but with me, you will know your best interest and goals are my top priorities from beginning to closing and beyond.
Let's talk about your real estate goals.  I want to learn what is important to you and how I can best help negotiate the Silicon Valley real estate market.